Read this article in Français
To meet the expectations of the French on their food, the French starch manufacturers launched the Starch Festival, a day created to inform and discuss the ingredients from the starch industry.
On November 27th, for the very first time, Chefs, bakers, dieticians, nutritionists, industrialists and sportsmen gathered in Paris to share their experiences and know-how on ingredients with unknown qualities. The starch industry produces starches, fibres, oils, proteins and a whole range of starch-based ingredients such as glucose syrup and maltodextrin.
"Aware of the questions that the French are asking about their food, we wanted to create a national event to open a dialogue and communicate about our products, which are all too often overlooked," explains Yves Belegaud, president of USIPA (Union des Syndicats des Industries des Produits Amylacés et de leurs dérivés).
This day is part of a global communication campaign aimed at improving the reputation of starch products among health professionals, culinary opinion leaders and the general public.
Nearly 70 people mobilized for the 1st edition
Organized in Paris in partnership with the Association des Boulangers-Pâtissiers du Grand Paris, the 1st edition brought together nearly 70 people, including 25 nutrition and cooking students. This collaboration has made it possible to illustrate the link between starch ingredients and French culinary know-how. "Our products have remarkable properties that make them suitable for use in cooking, specialized nutrition, animal nutrition, pharmacy and cosmetics," Yves Belegaud explains.
The event was organised around different highlights: testimonies, culinary demonstrations with a renowned pastry chef, culinary challenges between students, tastings and fun workshops.
L'Amidon en Fête also took place in the regions thanks to the mobilization of the four French starch manufacturers: ADM, Cargill, Roquette and Tereos. They organised various events such as product tastings, events in their company restaurants, drawing competitions, a welcome for elected officials and visits for schools and employees' families.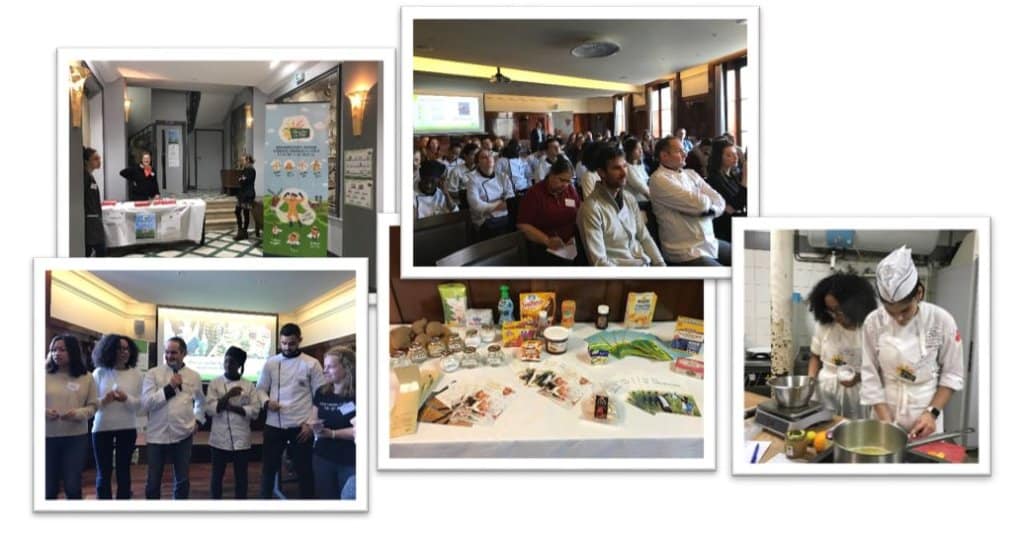 French starch manufacture: the leading starch industry in Europe
The French starch industry generates more than €3 billion in turnover and employs nearly 15,900 people, mainly in the North-East of France, where the 10 industrial sites are located. Leader in Europe, the French sector produced 3.2 Mt of starch in 2017 from 6.1 million tonnes of non-GMO French raw materials: wheat, maize, potatoes and peas. ¾ is exported to the EU and third countries, a key market for France.
The French starch sector in 10 key figures
4 companies in France
10 industrial sites
15,900 jobs in France, including 5,300 direct jobs
A turnover of more than 3 billion euros in 2017
2 to 3% of revenue dedicated to R&D
75% of exported turnover
66% of exports to the EU (excluding France)
3.2 Mt of starch produced annually
6 Mt of raw materials used per year
The activity of 15,000 field crop farms
L'Amidon en Fête testifies to the willingness of industrialists to engage in dialogue and openness. This is an interesting approach in the current context: the growing demand of consumers who are waiting for ever more naturalness, as well as mistrust, especially of food industry products, most recently with the subject of "ultra-processed foods" which has become a central issue in the debates.
In this context, it seems essential to "explain" and "bring positive perspectives" to support the French in their understanding of these subjects that raise questions and affect our food.